Comparative Analysis: Understanding the metrics being used to measure customer satisfaction
In the next in our series of comparative analyses across a global study and a follow-up UK study hosted by Field Service News Research in partnership with HSO, we look at trends relating to the metric being used by field service companies to measure customer satisfaction… 
In the opening series of questions within these studies, we identified the prevalence and importance of CSAT metrics within field service organisations as a measurement of success both operationally and more strategically within the broader aims of the organisation.
We also saw that the respondents from the UK largely mirrored those in the global study although amongst those questions relating to CSAT as a measurement for operational success and as a predictor for an organisations ability to retain business UK respondents were more likely to cite such metrics as 'extremely important'.
However, when it comes to alignment with revenue UK respondents were slightly more polarised in general with greater representation not only within the 'extremely important responses' but also in the 'not important' responses. 
Yet, the main data from both response sets indicates that CSAT metrics are not only widely used but broadly deemed to be 'extremely important' amongst the majority of field service organisations across several different strategic areas.
The next line of questioning we wanted to explore was how companies were measuring their performance in terms of driving customer satisfaction. 
We asked our respondents which of the following metrics they use to identify customer satisfaction:
Net Promoter Score (NPS)
Sentiment analysis
Social media monitoring
Management level customer contact
Customer satisfaction survey
The responses in the initial study to this set of questions revealed that while measuring such metrics is highly prevalent and significantly weighted towards being highly important to field service organisations, the tools used to do so remain reasonably rudimentary.
The three most commonly cited metrics in the global study were customer satisfaction surveys (66%), management level customer contact (56%) and NPS (50%) – all of which play an essential role within measuring customer satisfaction but are simpler metrics to implement and measure.
In the UK responses, these were also the most widely cited responses. (fig 4. below).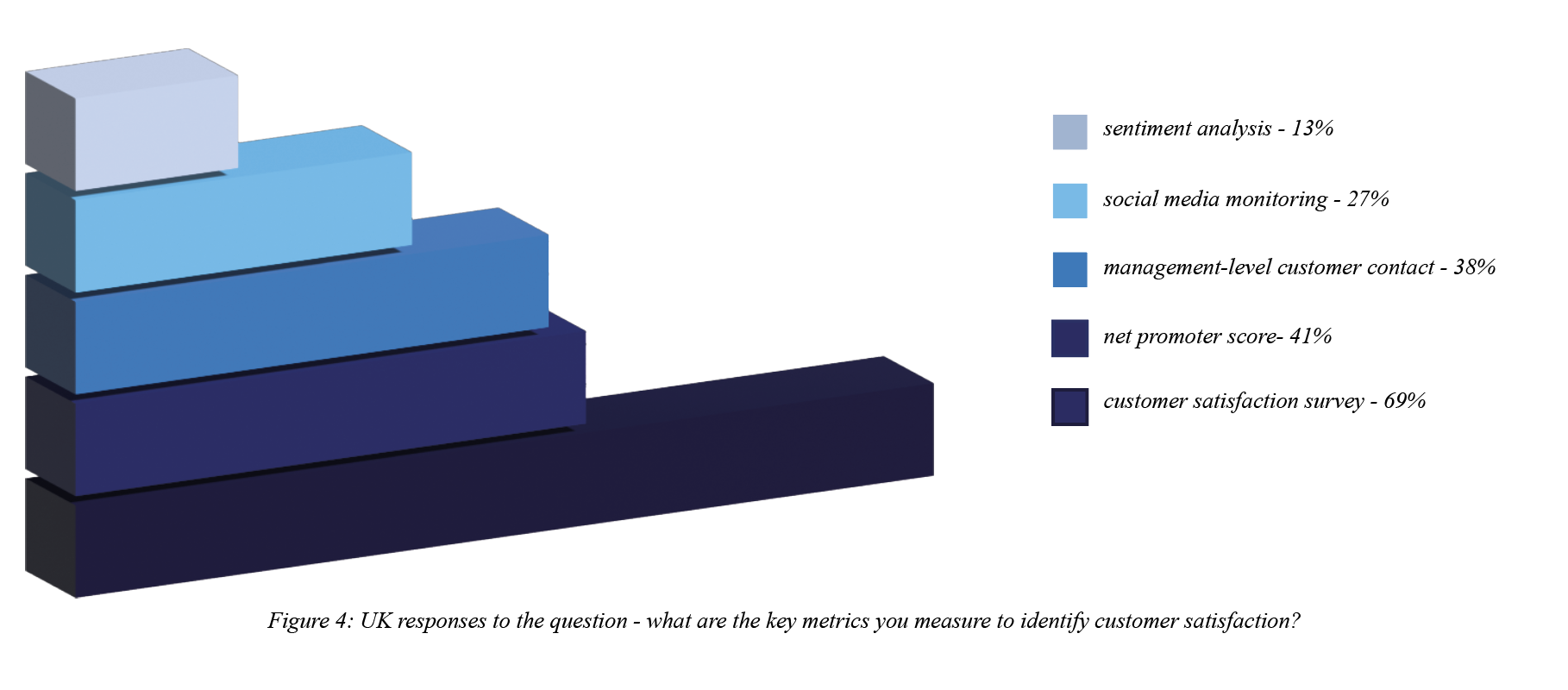 However, amongst UK respondents there was a greater weighting on customer satisfaction surveys with this response being cited by over two thirds (69%) of respondents while NPS was the second most cited response which slightly less than half (41%) of respondents utilised, and management level customer contact was cited by just over two thirds (38%) of respondents.
Sentiment analysis and social media monitoring (the most sophisticated metrics included within the list) were leveraged by relatively few field service organisations (16% and 12%, respectively) in the global study. In contrast, while sentiment analysis remained a relatively underused tool amongst UK respondents also (14%) of respondents, more than twice (27%) as many UK companies were tracking social media monitoring than those within the global study.
These findings would appear to suggest that there is greater sophistication and more automation in terms of gathering CSAT metrics amongst UK field service companies than there is within the general global mean With the importance of CSAT metrics clearly identified in the study, tools to measure them appear to be underused in our sector and this, therefore, provides an area where investment in such tools could yield an opportunity to gain competitive advantage. While the trends amongst UK field service organisations appear to be more advanced in this regard, such tools are still unused by the majority.
This was further evidenced when we asked our respondents how accurately they felt the metrics they measured for customer satisfaction provided a true reflection of their customer satisfaction levels.
The majority of field service companies in the global study (54%) stated that they felt the metrics they measured were only reasonably accurate. In the UK study, we find a very similar level of response with 52% of respondents stating the same.
However, when we contrasted those organisations in the global study that are utilising sentiment analysis as part of their CSAT measurements to the broader response set, we saw the number of field service organisations that state their CSAT metrics are an 'extremely accurate' reflection of their actual customer satisfaction levels more than double from 7% to 16%. Once again in the UK study, we see very similar results with the increase between those who don't use sentiment analysis as a metric being 7% ranking their metrics as extremely effective compared to 15% amongst those that do. (Fig 5. below)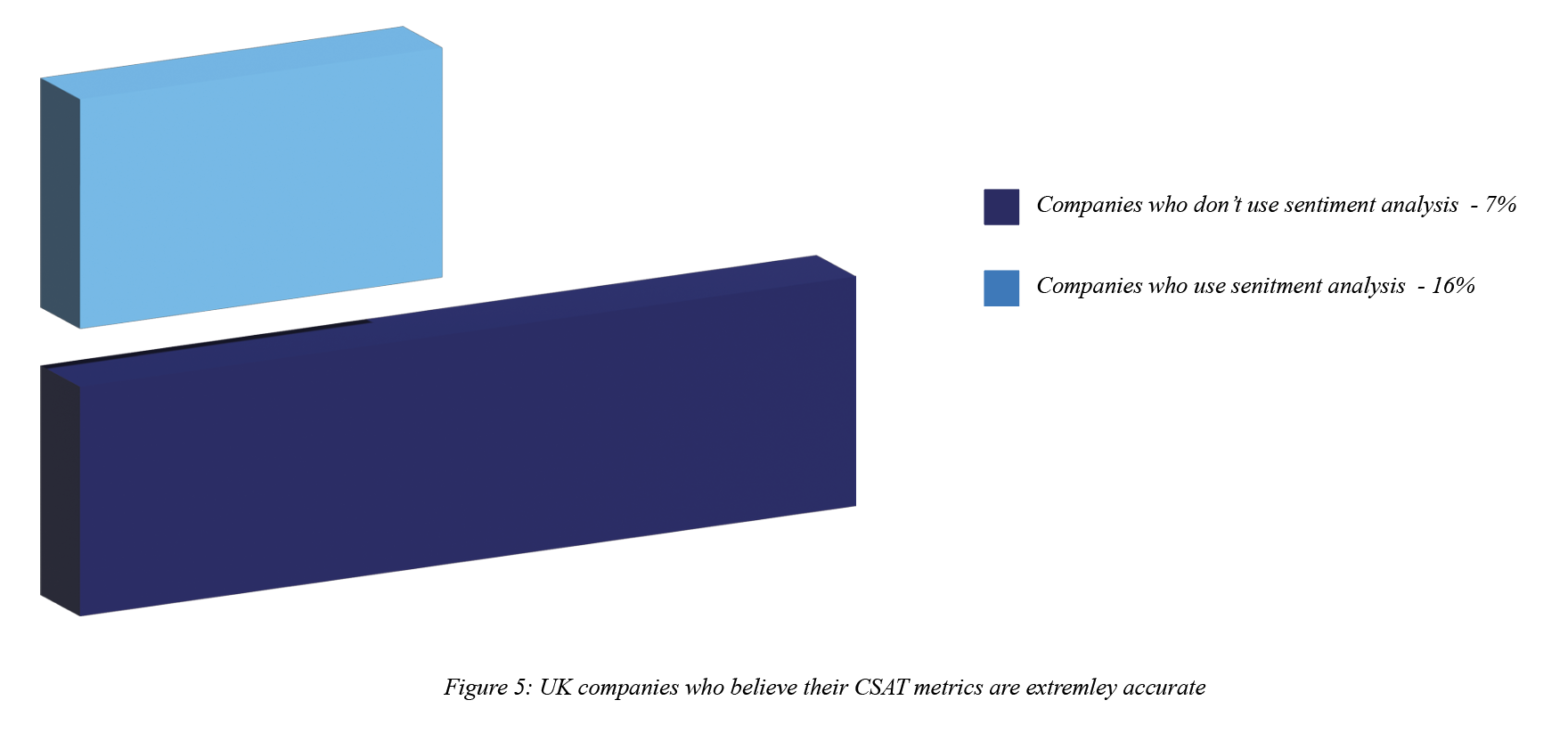 Our original report concluded that these findings revealed two clear takeaways from the study data so far. Firstly, while there is clear growing evidence that on a fundamental level the use of CSAT metrics as a core KPI and success measurement is prevalent within the field service sector, the approaches used are currently relatively immature.
Secondly, the results suggest that the use of more sophisticated measurements of CSAT such as sentiment analysis can potentially yield significant improvements in terms of the effectiveness and accuracy of how we monitor what is an increasingly crucial element of field service operations.
The remarkable similarity of the data in this second localised study, when compared to the responses in the initial global study only further reinforces these assertions and add even greater weight to the indications that the increased usage of sophisticated tools for measuring CSAT have a positive impact on driving better customer engagement and satisfaction levels.
In the next feature in this series we discussing hand when field service companies collect customer feedback data and explore best-practices. 
Want to know more and don't want to wait? Field Service News subscribers can access the full 20 page comparative analysis report on the button at the top of this article. 
---
This Field Service News Research study is sponsored by HSO
This content is available exclusively for FSN Premium members. Please either log-in or subscribe for access
Data usage note: By accessing this content you consent to the contact details submitted when you registered as a subscriber to fieldservicenews.com to be shared with the listed sponsor of this premium content HSO who may contact you for legitimate business reasons to discuss the content of this white paper.