Effective Use of Data Within the Field Service Business Unit
In this latest article in our series based on the latest Field Service News Research study hosted in partnership with ServiceMax, where we are exploring the correlations between asset data flow, servitization and cross-department collaboration, we now look at how effective the use of asset data is amongst field service companies… 
The discussion about the importance of asset data has been held within our industry for quite some time now. Indeed, most industry analysts have firmly identified that asset data is a central pillar within effective field service operations.
However, how does this translate to the direct experience of the industry? Firstly, let us establish whether field service organisations can receive data from the assets within their install base.
We asked our respondents if they felt their organisation received enough data from their assets in the field. The response here was comprehensive. Over three quarters (82%) of respondents answered in the affirmative, with only 13% responding negatively and the remaining 5% stating they were unsure.
This would certainly indicate that the majority of field service organisations do track and monitor asset data.
However, receiving, tracking and monitoring data is only a first initial step. The more important question is how many organisations can leverage that data effectively enough to impact their fields service operations positively? Within the same initial question, we also asked our respondents to identify if they could utilise data effectively.
Here we see a more accurate picture of the use of data within our industry currently.
The study findings revealed that over half (57%) of field service companies within the study while having access to asset data, cannot use it effectively. (Fig. 4 below)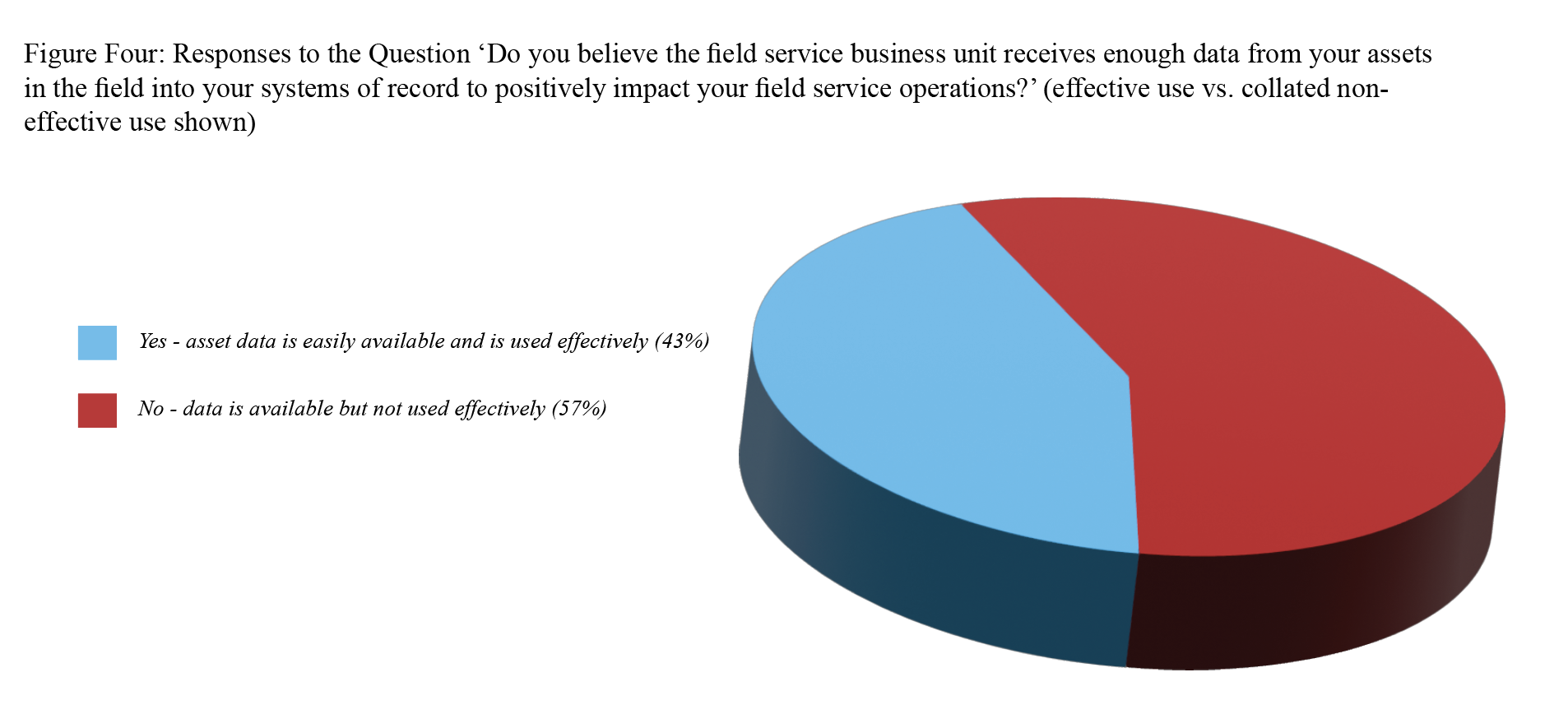 Within this subgroup of respondents, two thirds (66%) state that the most significant issue they have is not having enough data for practical analysis to surface operational insight. In contrast, the remaining third said that they do have enough data but are still unable to utilise it effectively.
Of those field service companies that state they are not utilising their data effectively, there is a common theme, the barriers that prevent them from doing so ultimately come down to a lack of proficiency.
As one respondent stated, 'We are currently collecting data but are not proficient or aware enough of how to use that data to make or drive improvements.'
What is particularly interesting is that this lack of proficiency is not aligned to a lack of adequate systems. Just 12% of those companies within the study cited inadequate systems and technology as the primary barrier to the effective use of asset data. (fig. 5 below)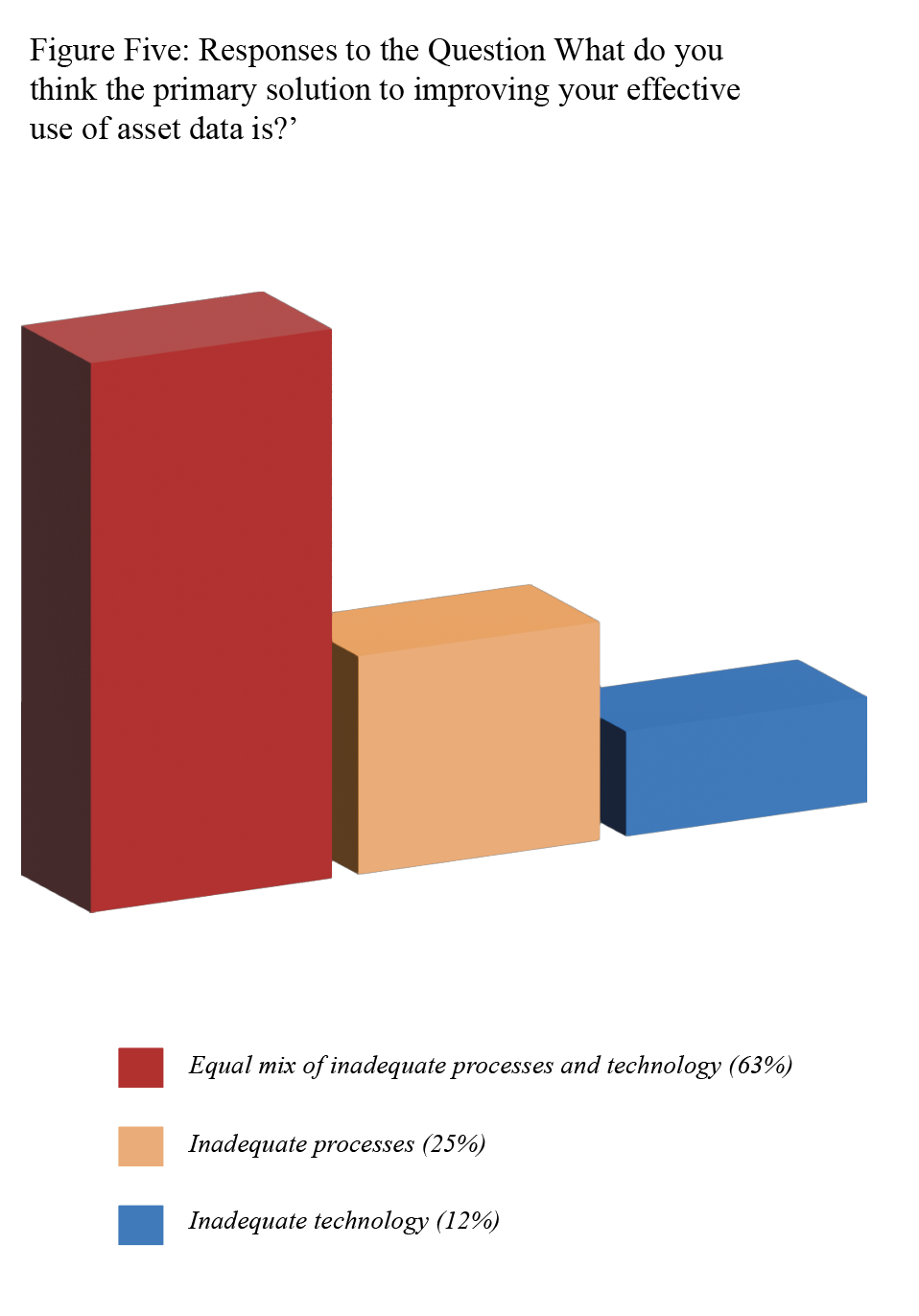 In contrast, twice as many (25%) of those companies within the study stated that their primary barrier was inefficient processes.
However, the study findings reveal that in the main, it is a mix of both a lack of adequate technology and inefficient processes combined as the primary barrier, as indicated by almost two thirds (63%) of respondents. 
Complexity is also a recurring theme that appears within the commentary from the respondents identifying what is preventing these organisations from using their data more effectively, with comments including 'it is slow, out of date, complex and sitting in a poor system', 'complexity of data is our primary challenge,' and 'our products are used in a wide range of applications delivered through a complex supply chain which means we often don't have the option to gather operational data.'
Returning to the entire response set, we see that over a third (38%) of companies have access to enough asset data and can state that they are utilising it effectively.
Looking forward to overcoming these challenges, we also asked our respondents what would allow them to have better data in sufficient quantities to drive meaningful operational insight.
While the complexity of data does represent a significant challenge according to the study's findings, still the most common trend amongst our respondents was to identify further investment in connected assets and Internet of Things with responses including 'more connected assets,' investment in IoT infrastructure' and 'implementation of better IoT systems and reinforcing the use of data amongst personnel,' all being representative of the key themes emerging within the study.
With this in mind, in the next feature in this series, we shall explore the varying mechanisms for asset data collection. Want to know more and don't want to wait? Field Service News subscribers can access the full report on the button at the top of this article.
---
This Field Service News Research study is sponsored by ServiceMax
Data usage note: By accessing this content you consent to the contact details submitted when you registered as a subscriber to fieldservicenews.com to be shared with the listed sponsor of this premium content ServiceMax who may contact you for legitimate business reasons to discuss the content of this white paper.