CSAT has become the critical metric in field service.
The shift in our industry to Customer Satisfaction (CSAT) metrics becoming viewed as at least as necessary, if not more important than operational metrics, has been one that has been coming for several years and witnessed in multiple benchmarking studies…
However, does this trend in terms of the KPIs measured directly relate to the top-line strategies of field service companies, or are they utilised to identify the internal success of the field service operation itself?
One important mechanism that could be used to determine the importance of CSAT metrics to broader business strategic aims, would be to understand how these align with growth strategies.
To achieve this, we asked our respondents a series of questions based on various revenue growth strategies to understand the importance of CSAT metrics and, of course, performance in defining success within these areas.
In this initial line of questioning, the study findings reinforced our initial hypothesis that we would see the shift to CSAT as an outline of divisional and operational success but also aligned to growth strategies of field service organisations. The first area we explored in the study was how critical customer satisfaction is when defining operational success internally.
73% of the field service organisations within the study outlined that customer satisfaction is 'extremely important' to defining operational success within their organisation. Furthermore, 22% of organisations stated it was 'very important' within their organisation, and only 4% said that such metrics were only of average importance.
This of course aligns with previous studies as referenced earlier and is perhaps of no surprise; however the data does firmly reinforce the significance of CSAT as a metric to define operational success.
It is also interesting to note that when we asked those respondents in the latter group what metrics their organisation considered more important than customer satisfaction, many of the responses, such as 'fixing the problem the first time and on budget' while being operationally focused, would also likely drive customer satisfaction at the same time.
However, when we begin to look at the next set of responses, we begin to see just how deeply embedded customer satisfaction scores are within growth strategies.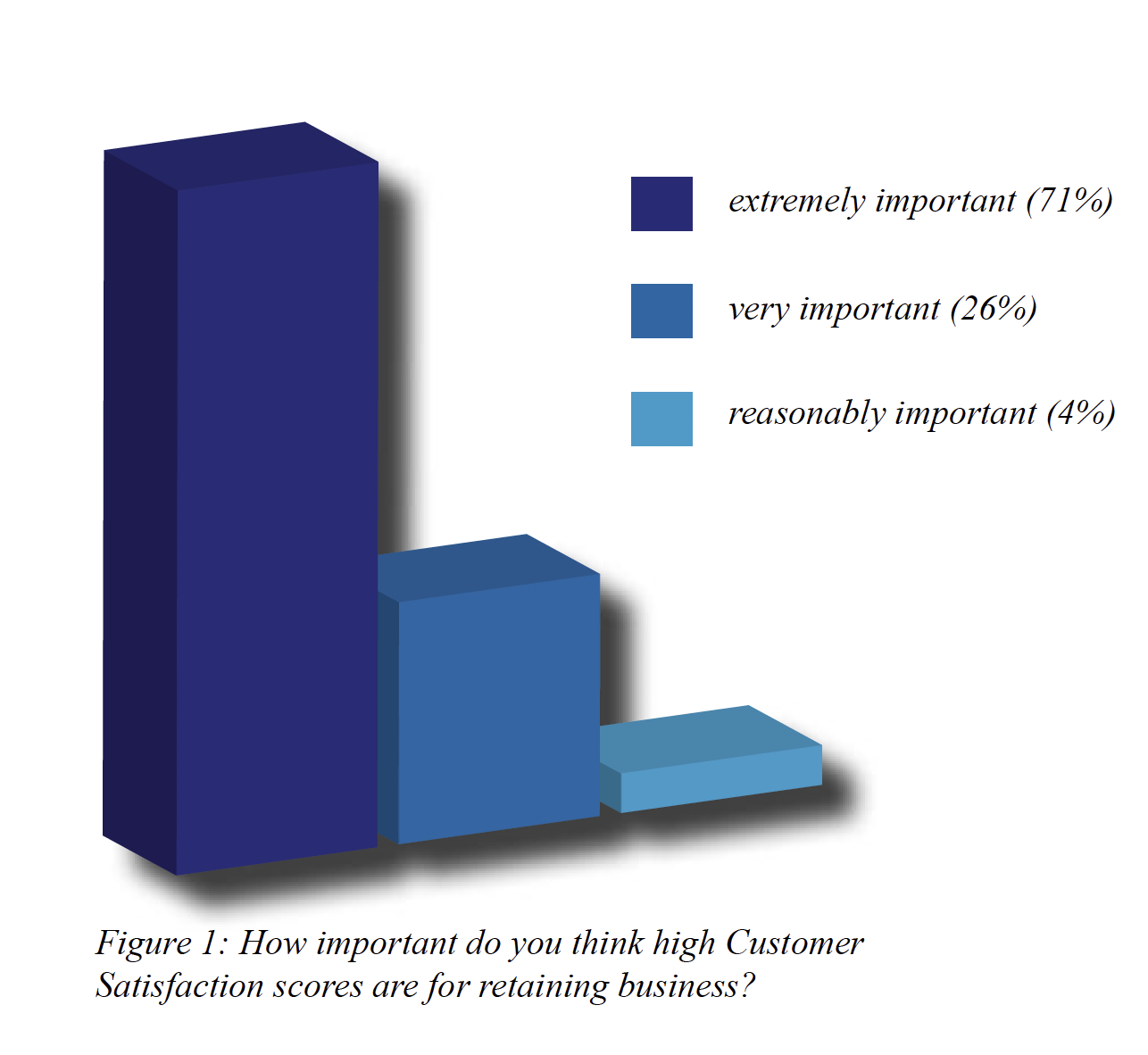 The first of these results (fig.1, left), again shows a trend we would have anticipated.
Over two thirds (71%) of field service organisations identified stated that they believed such metrics were 'extremely important' when it comes to retaining business.
Just over a quarter (26%) said such metrics were 'very important', and 4% felt they were 'reasonably important'. Given that consistently poor customer service is widely known to result in customer leakage, this is not an unexpected finding.
However, what is more enlightening is when we look at the responses to the following two questions within the study.
Firstly, we asked our respondents how important they saw customer satisfaction scores for increasing revenue from existing customers.
As with the last question, we would likely anticipate that most companies would see a positive correlation between these two facets of service delivery.
Happy customers are more likely to be open to other service offerings being introduced.
Again the study findings corroborated this assertion. 57% of respondents stated that customer satisfaction was 'extremely important' in this area, while 30% said it was 'very important' and 12% stated it was 'reasonably important'.
However, in the final question in this section of the study, however, perhaps we see the firmest evidence of how customer satisfaction has become firmly engrained within the revenue growth strategies amongst field service organisations.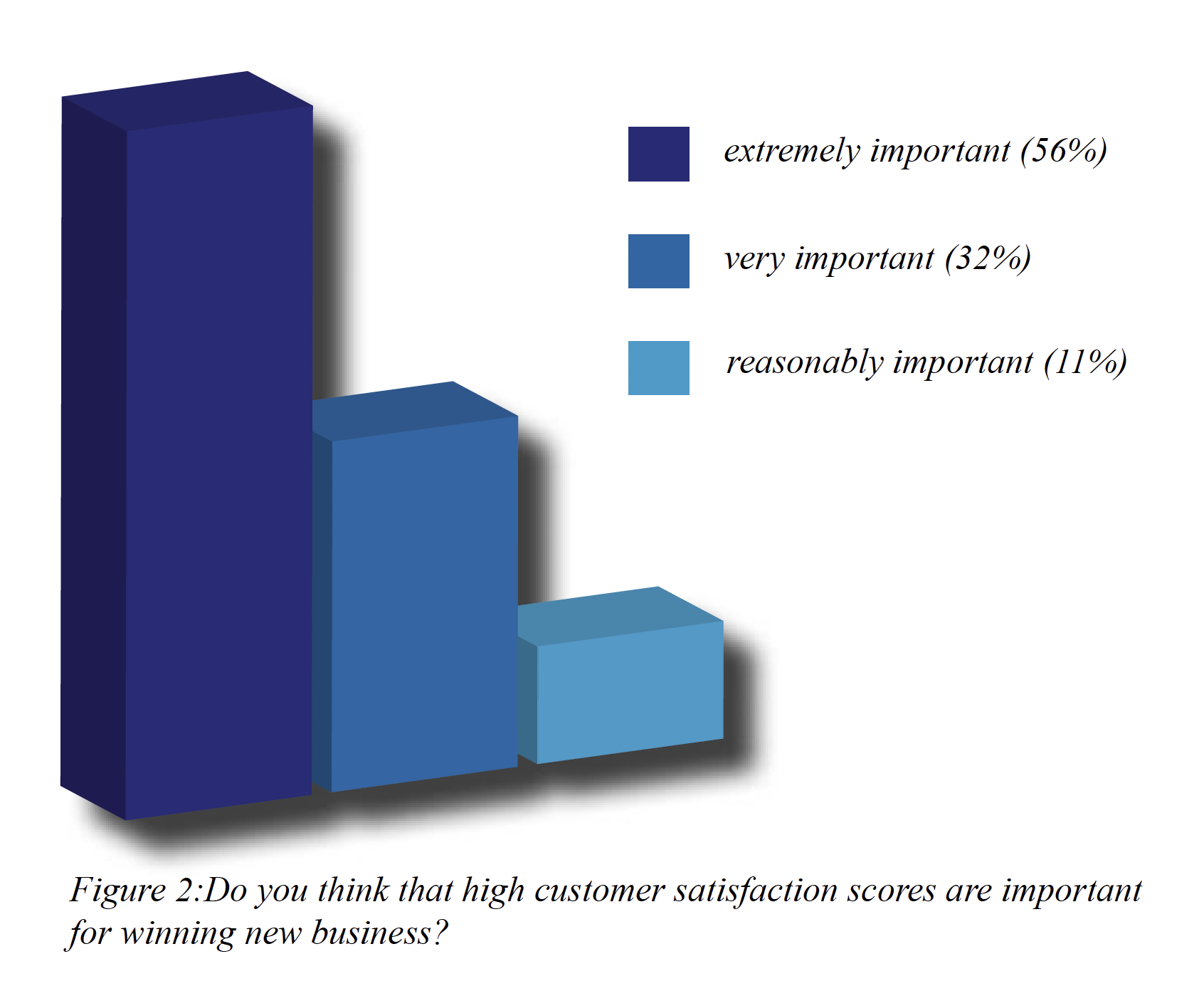 In response to the question 'do you think that high customer satisfaction scores are important for winning new business?', (fig. 2, right) over half (56%) of field service companies within the study stated they felt such scores were 'extremely important'.
In comparison, 32% of respondents said these were 'very important', and 11% stated such metrics were 'reasonably important'.
This indicates that field service organisations align high customer satisfaction scores with growing revenue amongst their existing client base, and their ability to deliver service excellence was a clear differentiator to allow them to win new business. Ultimately, the study data is clear.
Customer satisfaction is now positioned at the heart of both retaining existing business and winning new business. Additionally, we see that these are two dual facets of key revenue growth strategies.
For almost two thirds (59%) of field service companies within the study, their growth strategy is evenly balanced alongside these two areas of revenue growth.
The study's findings seem clear; amongst field service organisations, high customer satisfaction scores are seen as an indicator of internal operational success and a crucial mechanism within revenue growth strategies.
In short, CSAT measurements have become critical amongst field service organisations.
This content is available exclusively for FSN Premium members. Please either log-in or subscribe for access
(Visited 25 times, 1 visits today)