The Varying Mechanisms for Asset Data Collectiona
In this latest article in our series based on the latest Field Service News Research study hosted in partnership with ServiceMax, where we are exploring the correlations between asset data flow, servitization and cross-department collaboration, we look at the findings of how field service companies are collecting asset data… 
When we discuss asset data, invariably, the first aspect of that conversation centres on IoT.
While this is invariably where the future of asset connectivity and collection of asset data lies, it is important to remember that other mechanisms for collecting asset data are not reliant on IoT connectivity.
Indeed, when we asked our respondents which means of data collection they use to collate asset data from their install base, direct connectivity accounted for just over half (52%) of data collection. (Fig.6 below)
The other data collection tools, sometimes dubbed poor man's IoT, involve the manual collection of data from the asset and can provide a valuable bridge for a field service organisation that is making a transition towards becoming a data-driven service operation but has yet to fully implement the requisite infrastructure for fully automated collection of asset data via IoT.
When we look at the various types of non-IoT based asset data collection, the most frequently used mechanism is for that data to be field service workforce driven, which almost two thirds (65%) of companies stated as a method of data collection. In fact, of all data collection mechanisms, including IoT, service workforce driven data collection was the most widely cited.
The following most common means for asset data collection was via the service workforce amongst contact centre or technical support staff, which half (52%) of companies utilised. In comparison, customer-driven data updates were a mechanism for asset data collection for slightly under a third (29%) of companies.
It is important to note that both of these latter mechanisms for collecting asset data require input from the customer.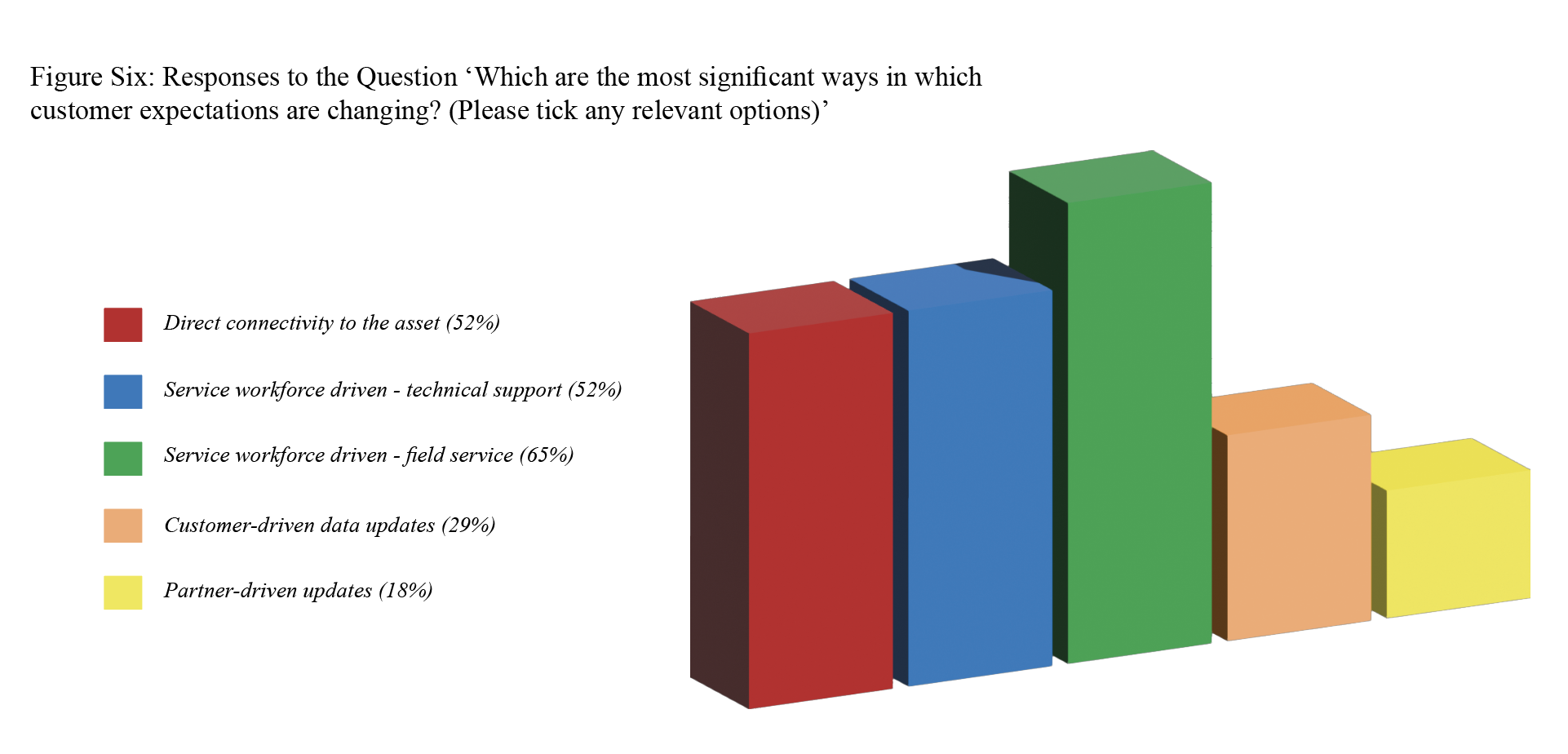 Therefore, when we see these two aspects combined, we see that customer provided data is the most widely used mechanism for collecting asset data amongst those companies within the study, with 81% of companies collecting asset data in this manner.
Finally, 18% of companies within the study collected data from their partner-driven updates.
These non-IoT based mechanisms for collecting asset data are set to continue to be vital as our industry continues to move through a period of digital transformation. In previous Field Service News studies, we have already seen a clear trend towards adopting IoT. A 2020 benchmarking study revealed that over two thirds (67%) of field service companies were able to access machine data feeds from assets on a customer site.
This is reinforced within this study, both in terms of new assets being IoT enabled and existing assets being retrofitted to have IoT connectivity.
Regarding new assets being developed with IoT capability, on average, 41% of new assets are now IoT enabled across the companies within this study. (Fig. 7 below)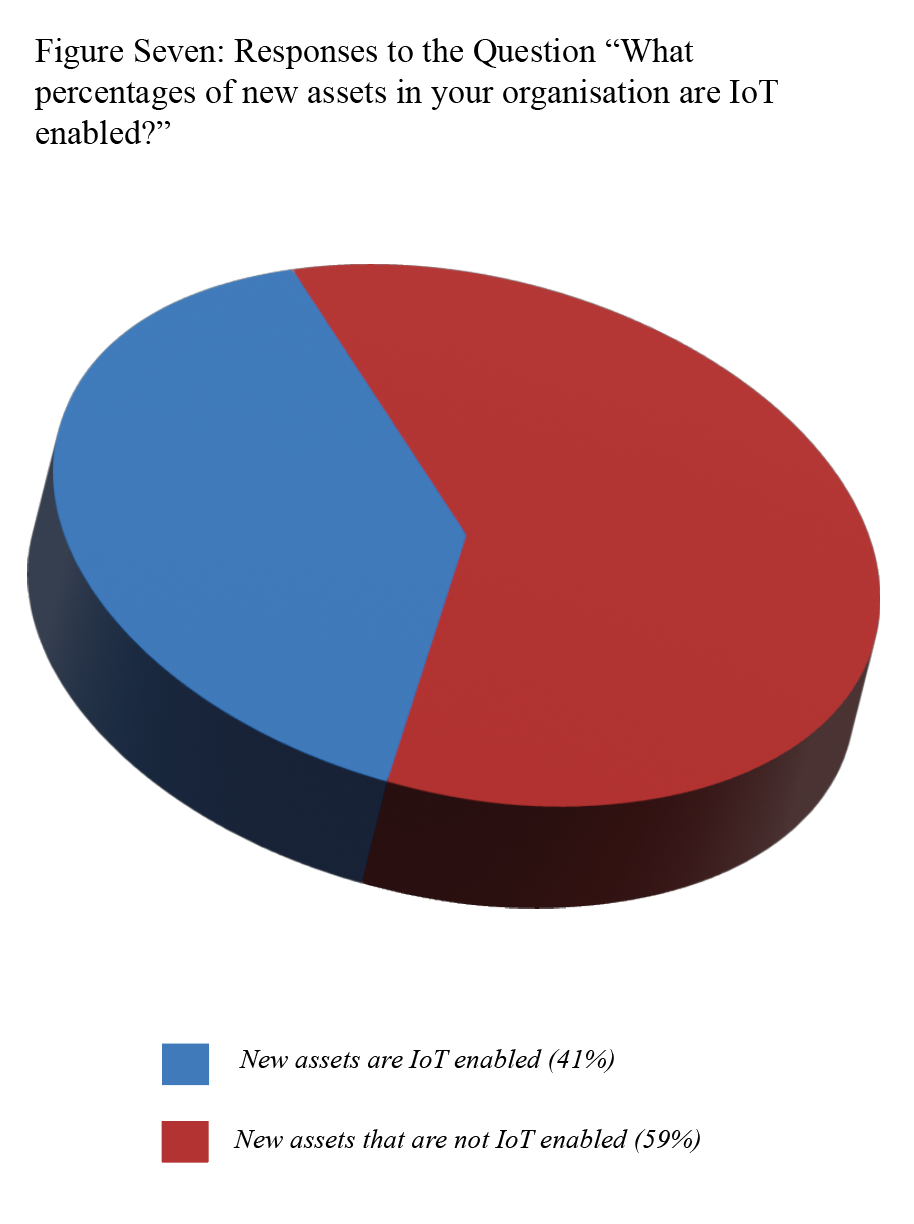 Furthermore, the study findings revealed that companies that intend to retrofit existing assets on average state that they will be seeking to add connectivity to 61% of their unconnected install base. In total just over half (57%) of companies stated they intend to retrofit existing assets within their install base that are currently not connected.
There were several reasons for going through this retrofit process that were left within an open comment box to the question 'What are the main criteria for deciding which legacy assets should be connected to IoT'.
These included 'improving warranty and BER status and 'avoiding breakdowns in service (proactive maintenance)'. However, the most common theme we saw amongst the responses to this question we a customer pull to do so with responses including 'customers wish to upgrade and the value of that contract to the business,' 'customer economic,' and 'customer demand and expectation.'
In the next feature in this series, we shall discuss the understanding of asset data amongst field service companies and explore how it is being utilised and leveraged.
Want to know more and don't want to wait? Field Service News subscribers can access the full report on the button at the top of this article.
---
This Field Service News Research study is sponsored by ServiceMax
Data usage note: By accessing this content you consent to the contact details submitted when you registered as a subscriber to fieldservicenews.com to be shared with the listed sponsor of this premium content ServiceMax who may contact you for legitimate business reasons to discuss the content of this white paper.
(Visited 33 times, 1 visits today)