In this next feature in our series analysing an exclusive Field Service News Research project run in partnership with Salesforce we now turn ask what might we be sacrificing if we move to firmly into a world of remote-first as a default?
To recap briefly, the study has revealed several important trends emerging within the field service sector.
Firstly, it is clear that remote-service delivery has become a commonplace mechanism for service delivery.
Secondly, while the concept of remote service delivery has become commonplace, the tools that are being used to deliver service remotely are far from standardised ranging from the rudimentary (i.e., phone-based) to the sophisticated (i.e. leveraging augmented reality). Additionally, as we would expect with such a sudden and dramatic shift in fundamental processes, the majority of companies are currently using the more rudimentary tools, and those utilising more sophisticated methods are presently an emerging best-in-class.
Thirdly, while there are numerous benefits to adopting a remote-first approach to service delivery, there are also a number of potential losses for service providers and their customers alike if we reduce the amount of time field service engineers and technician spend on-site with customers. To find a balance between these two positions, we are almost certainly likely to see the emergence of hybrid models that blend remote service delivery and on-site service calls.
The points above are all re-enforced by the study findings and lead us to an important conclusion. We are at a crucial point in the evolution of our sector where we are in the midst of redefining exactly what field service is and where its value proposition lies. It is therefore critical at this point that we begin to firmly outline and understand what is the value proposition of our service offering as we reinvent processes that have been ingrained in our sector for such a long time.
It has been said so much within the last few months that it has almost become a cliché already, but the fact is that we are currently building the new normal. For us to do so effectively, we must have a comprehensive understanding of not only what our service value proposition is in that new normal, but equally how we can deliver it.
Indeed, there is a belief within the sector that remote-service delivery can form the backbone of such service value propositions within that new normal. An overwhelming number of respondents to this study (81%) stated that they felt that remote service is financially viable (figure 9). This is also corroborated by a previous study by Field Service News Research which identified that that over three-quarters (76%) of field service companies who had adopted remote-service capabilities, were viewing their ability to do so as a means of generating new service revenue entirely.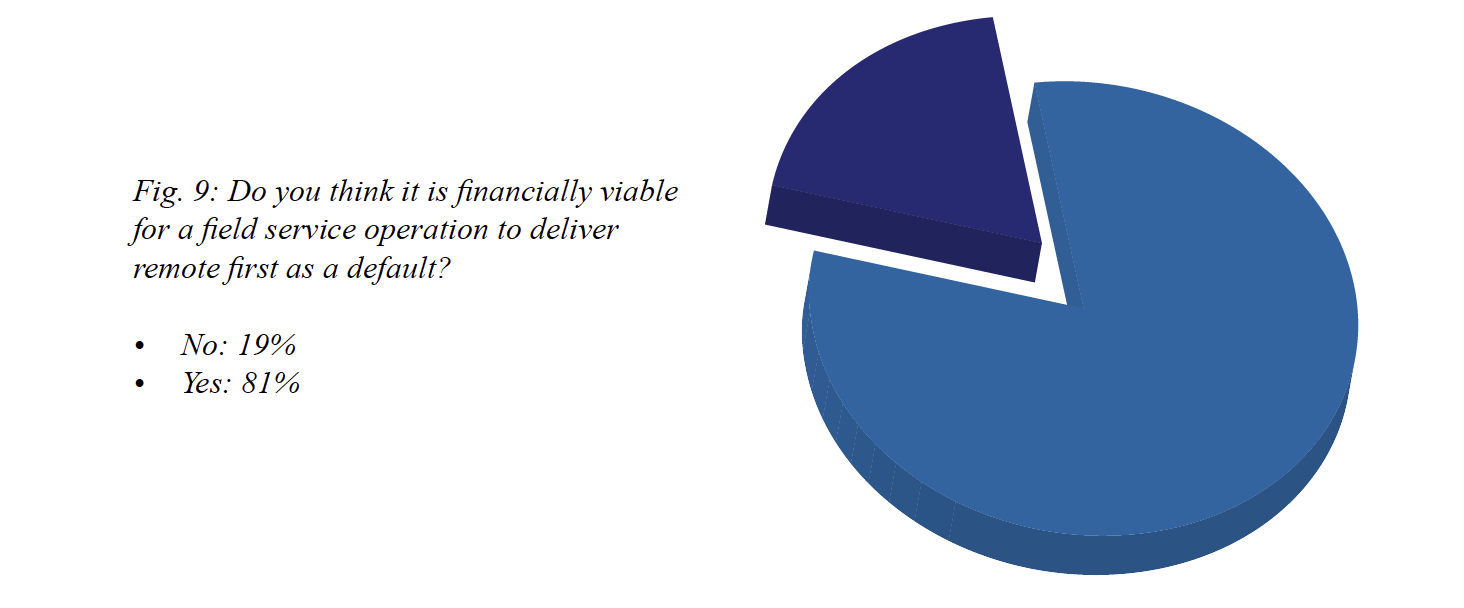 The reasoning behind this thinking is, on the surface at least, understandable.
Reflecting on the question we put to respondents in this study regarding the benefits of remote-service delivery to the service provider, over three quarters (80%) of the field service companies stated that they see reduced overheads as a key benefit of a remote-first approach to service delivery. At the same time, an even greater number (84%) saw less geographical restrictions as a key benefit also.
It is understandable then that the majority of field service companies would view the ability to deliver more service calls for less cost that remote-service delivery promises, as an opportunity to expand service revenue streams.
However, there are some further considerations highlighted by this study that must be taken into account.
Firstly, we must assess where the alignment with the customer sits.  While the ability to operate service at reduced costs and margins is appealing to the vast majority of service providers, this doesn't neccesarily apply to their customers. When we look at where the respondents to the study saw key benefits for their customers, we see only a little over half of field service companies felt that reduced service costs would be a key benefit for their customers.
It has long been established that when it comes to service, customers will regularly pay more for what they perceive as excellent service. As leading Customer Service Strategist Shep Hyken outlined in an article on Forbes "68% of customers would pay more to the company that provides great service. 33% percent would pay 1-9% more. Twenty-seven percent would pay 10-20% more and, 8% would be willing to pay over 20% more if the service was great."
Again, reflecting on this study, this adds even further weight to the point raised earlier about the opportunity for those companies who invest now in Augmented Reality to be able to deliver a level of remote service that is a clear differentiator between their service levels and their peers.
The simple fact is that despite there being a tremendous amount of positivity surrounding remote service delivery, and a large number of field service companies moving to remote-first as a default, it is clear that as an industry we have yet to settle on a how such service should be priced.
Indeed, it is interesting to note that when we cross-examine the data, we see that 100% of those companies within the study who are utilising Augmented Reality to deliver service remotely, also state that they anticipate further investment in their remote service solutions – an additional indicator that they see the value in defining a standard of service excellence within their remote capabilities.
There is a second consideration that the data from the study reveals, however, and it is one that we must address head-on, as, without resolution, it could significantly damage any meaningful move to remote services and put many field service organisations within financial difficulties if not adequately addressed.
The simple fact is that despite there being a tremendous amount of positivity surrounding remote service delivery, and a large number of field service companies moving to remote-first as a default, it is clear that as an industry we have yet to settle on a how such service should be priced.
We asked the respondents to the study whether they were charging more or less for delivering remote service vs. on-site service delivery. The results here paint a picture where we have so far failed to understand where remote-service sits within the value proposition of service. If it is to become the foundational pillar for service delivery, that it appears to be destined to, this does need resolving.
While just under a third of companies (31%) are currently charging the same for remote services as they do for on-site service delivery, the same amount of companies are charging less.
This is of course, potentially in line with the discussion above, in that with reduced overheads and margins and greater geographical reach, the service provider can charge a lower top line fee while still making greater profits.
However, an even greater number of companies (35%) stated that they are not charging for remote services at all. One possible explanation for such actions could be that as a direct result of field service companies transitioning to remote service delivery within the midst of the pandemic, the costs of service calls were absorbed into existing service agreements – in essence, an early iteration of the type of hybrid models we've discussed above.
Yet, when taken into account alongside where the customers of field service companies see value in the service provided, as well as the broader conversations around redefining the value proposition of field service at large, it is important to highlight the fact that we are still very much in the embryonic days of a remote-first world of service delivery.
The data from the study would appear to re-enforce this position, and close attention must be paid to how field service companies now position the value of remote-service delivery. Failure to do so early, could potentially result in the devaluation of such an approach to service delivery in the future.
---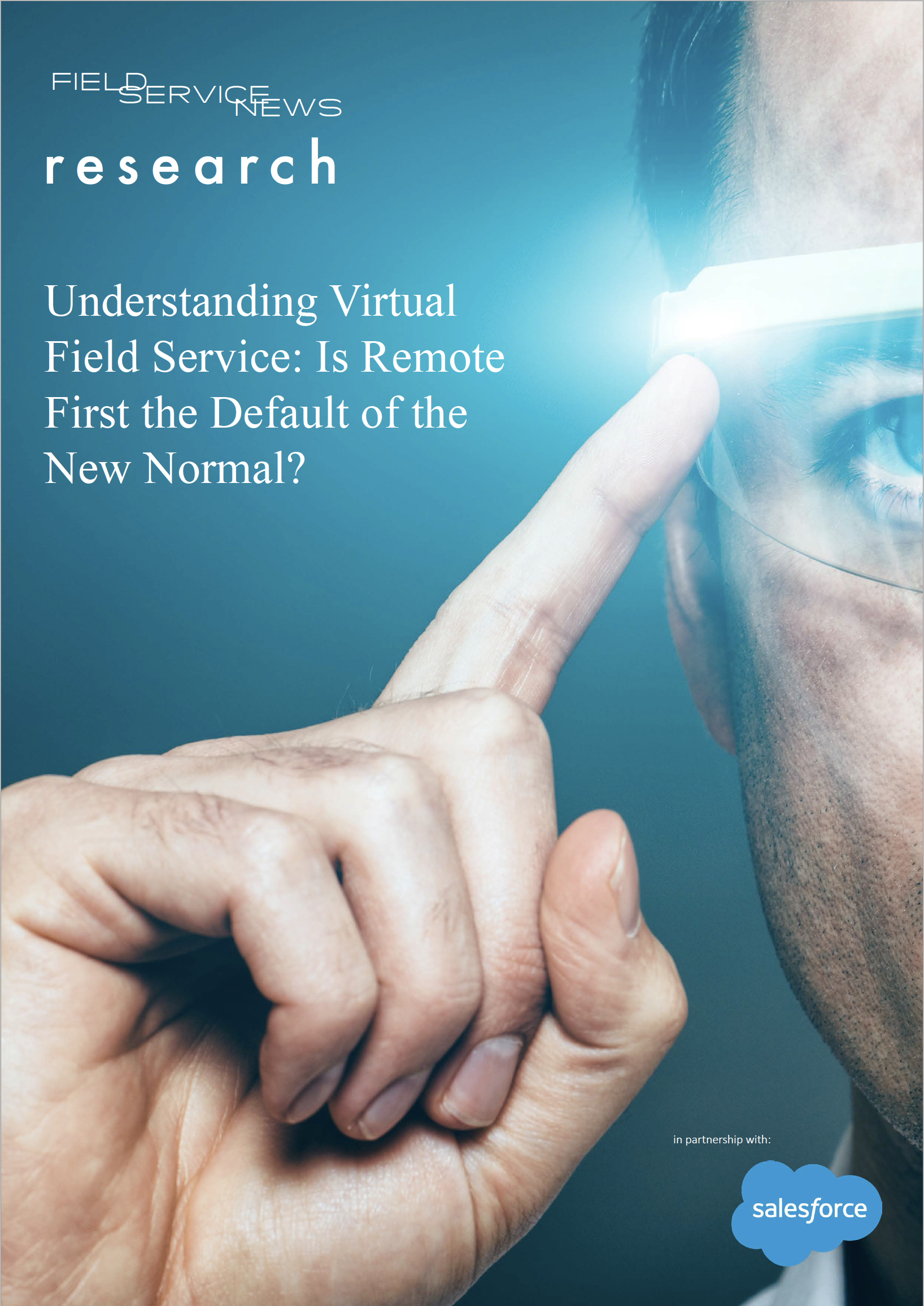 Want to know more? The full paper is available in the premium resource library